.brands Spotlight: Automotive industry
The .brands Spotlight series takes a deep-dive into interesting facets of the .brands space, looking at Stats Hub data to find insights about how .brands are being used across different industries, regions and organizations. This Spotlight piece focuses in on the global automotive industry.
Summary
The global automotive industry produced over 94.9 million vehicles in 2016, and is considered one of the world's most important economic sectors by revenue. As an industry of such magnitude which has by definition been built on a foundation of constant innovation, it is no surprise that the automotive sector is one of the most highly represented in terms of .brand TLD applications and subsequent usage. While automotive brands in some geographic regions are more active than others, overall the sector is emerging as a leader in .brand adoption.
Key statistics
Total TLDs delegated: 42
Including
AUDI        BMW       FERRARI       HYUNDAI       TOYOTA
Average domains per .brand
Industry percentage of all .brands

13.8%

13.8%

Proportion of active TLDs (more than 2 domains registered)

41.6%

41.6%

Proportion of active domains (resolving or redirecting)

74.4%

74.4%
Industry spotlight: Audi leading the way
Of the automobile manufacturers using .brand TLDs, Audi is the clear leader, registering over 600 domains, 75 percent of which are actively resolving or redirecting.
Audi's usage of its .audi TLD is interesting and varied. The resolving domains on .audi, which total over 440, include product and campaign pages, redirects to existing content and assets, links to corporate information pages and shortcuts to local dealer websites just to name a few.
Take for example the Audi dealership in the medium-size town of Leipzig.
While the URL for the specific dealer (www.audi-zentrum-leipzig-sued.audi) appears longer than one might expect, its performance in organic search is clearly the goal – which it appears to be achieving.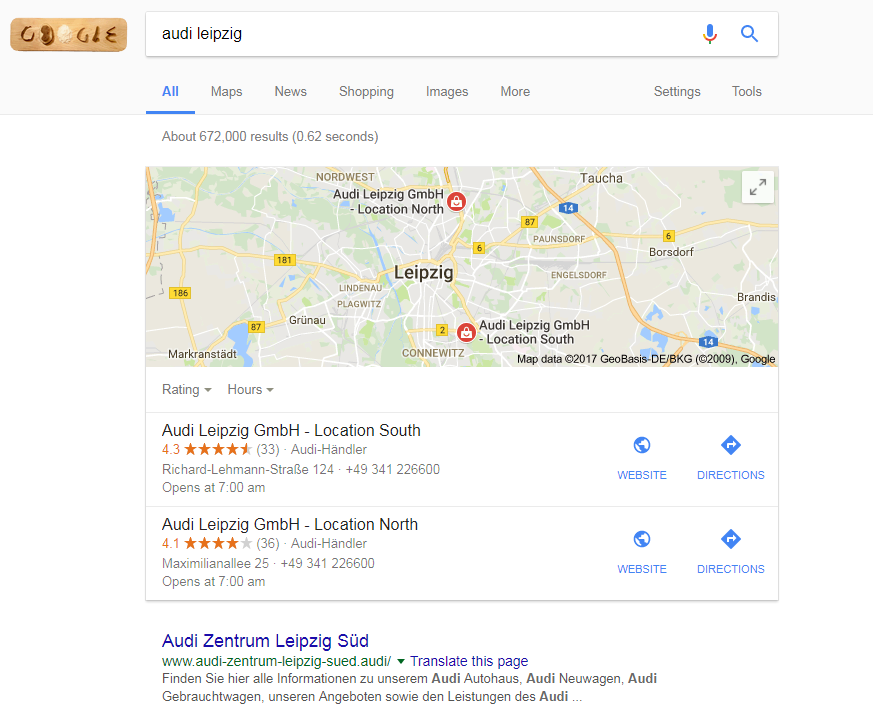 Other more intuitive examples include the July 2017 Audi Summit, which is hosted at www.summit.audi, while the brand's social media profiles can be accessed through vanity URLs such as www.twitter.audi and www.facebook.audi. Links to .audi domains have been widely publicized in social media posts.

Audi is not the only German automotive brand to have adopted .brand domains. In fact, of the six top automotive companies by .brand domains registered, four of them are from Germany. BMW features highly in the ranks, with the motor group collectively registering 55 domains of which 82 percent are currently active. MAN SE follows closely behind, also with 55 domains.
So why is Germany so highly represented in terms of .brand TLDs in the automotive sphere?
As many would be aware, Germany is a country known for its technological innovation, with a great deal of investment every year in research, development and education. In addition to its strong automotive industry which was responsible for manufacturing around 6 million vehicles in 2016, the country's broader desire for continual technological advancement has embedded innovation into Germany's culture and economy.
In fact, the prominence of German companies in the top-performing automotive .brands may be linked to a wider trend of European uptake in .brand TLDs. Certainly in the automotive industry however also identifiable in other sectors, European brands are among the most active in terms of .brand domain registrations and usage.
One potential reason for this may be that European brands and consumers are more 'primed' to use alternate domain extensions, with .com being less ubiquitous than in the USA. European consumers would be very familiar with websites under .uk, .de or .fr to name a few, and perhaps have more day-to-day experience with a range of domain options beyond .com. This may then impact European brands' openness to adopting .brand domains as an alternative that can encompass all geographic regions and remains relevant without requiring a separate domain for every location.
Conclusion
Representing 14 percent of all .brand domain registrations, the automotive industry is highly represented in the .brand space. It also has one of the highest proportions of active domains, indicating that usage of .brands in the sector is significant.
However this ranking is supported largely by the efforts of a few key players that are leading the way, with 85 percent of the industry's domain registrations coming from just five brands.
As an industry, the automotive sector is not without its challenges. As threats emerge in changes to the global economy, challenger companies like Uber and new technologies such as self-driving cars, the automotive industry as a whole is facing an environment of 'disrupt or be disrupted.' By its nature, the automotive sector has always been one of technological advancement, however more and more auto manufacturers are needing to think more like tech companies in order to stay relevant in the swiftly-evolving market.
We've seen evidence of this in the future-minded projects launched from some of the world's most established automotive brands. This year Ford announced a five-year, $1 billion investment in the development of a self-driving car; while General Motors acquired a similarly-focused organization in 2016.
In this regard, it is not surprising to see automotive brands looking for opportunities to innovate in their marketing, digital and customer experience as well. In projects like BMW's www.next100.bmw campaign, we can see .brands finding a place among the culture of innovation that has become synonymous with automotive manufacturers since their early days.
GoDaddy acquired Neustar's registry business as of August 3, 2020.
Subscribe
Stay up to date with the latest .brand news and views by entering your email below.