.brands Spotlight: .youtube
Over the last few years, there has been significant attention paid to the numerous sites that have launched under the .google branded top-level domain. In this edition of the .brands Spotlight Series, we turn our attention to YouTube and discuss how the .youtube extension is being used to support some amazing innovations for the world's largest video streaming service.
Publicly available domains
3
Technical/system domains
3
There's little debate over the incredible rise of YouTube since Google's acquisition in 2006 for $1.65 billion which seemed like an incredible amount of money for deal of that nature at the time for many industry watchers. 14 years on, YouTube continues to go from strength to strength with over 1.3 billion users and almost 5 billion video views each day helping the hosting/streaming giant to generate $15 billion in revenue in 2019.
Perhaps even more impressive has been YouTube's seamless integration into Google's search results which has created a formidable synergy that generates mutual benefit for publishers and advertisers alike, making it one of the most widely used and powerful digital platforms on the planet.
How then does a new web extension like .youtube create value for an organization that is already so rich in traffic through its combination of web and app platforms?
As we noted with .google where domains were being used for communication and product launches, usage of .youtube has not become integrated as yet with the primary purpose of the business nor the primary youtube.com domain.
And whilst .google and .youtube both host their corporate blogs at blog.google and blog.youtube respectively, it's two new innovation sites that are being hosted on .youtube domains that has really got our attention for this .brands Spotlight.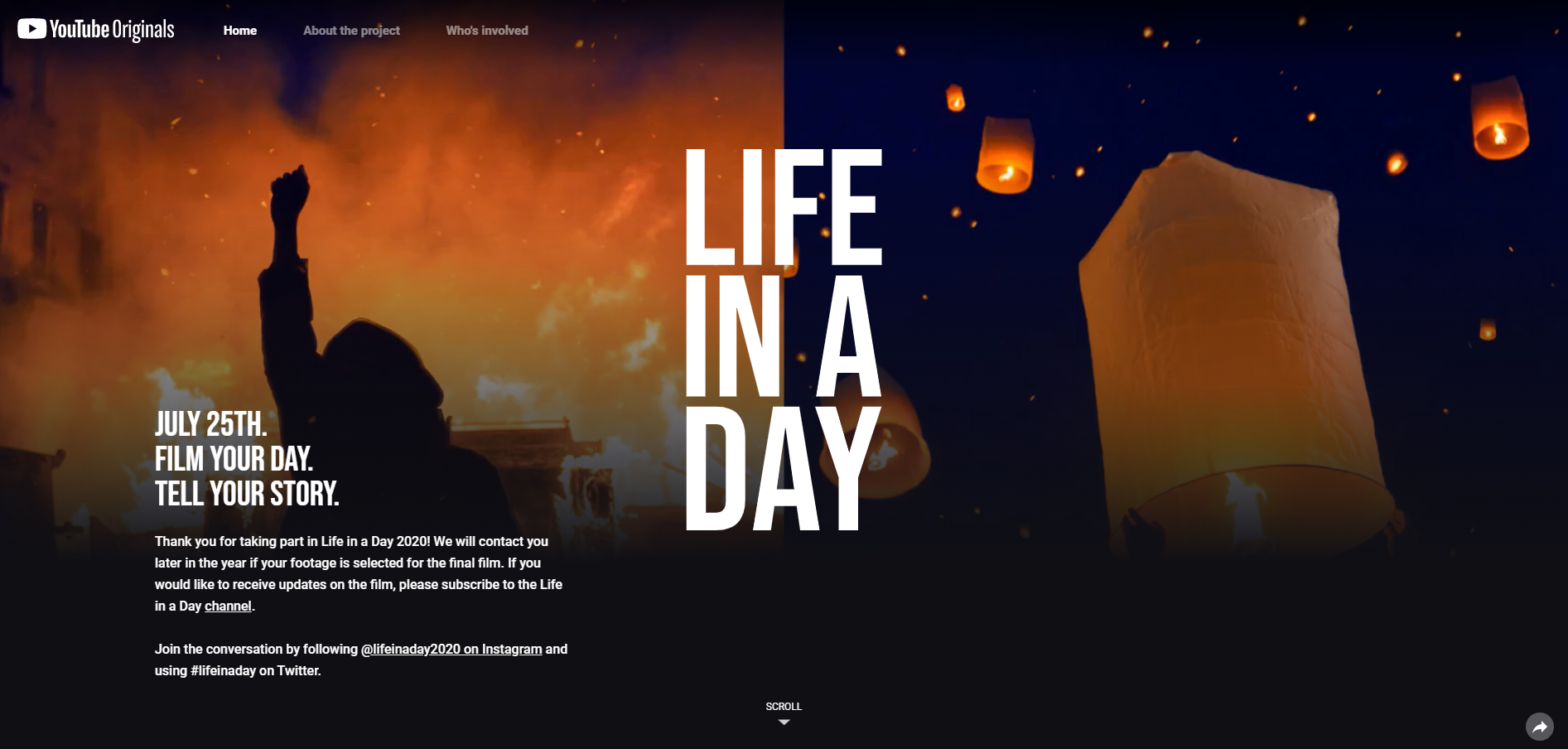 It's been almost a decade since the first 'Life in a Day' film and its revival has drawn attention from all over the world. And with world class directors like Ridley Scott on board and a plan to submit the video for the Sundance Festival in January 2021, why wouldn't it?
This year, over 300,000 aspiring videographers from 191 countries submitted videos of their day from July 25 2020 and this will be painstakingly compiled into one 90 minute video over the coming months.
With the aim of showing what a day across the entire world looks like, this amazing initiative by YouTube has found its way onto a .youtube address and we think this level of innovation seems only fitting to have an innovative web address to promote it.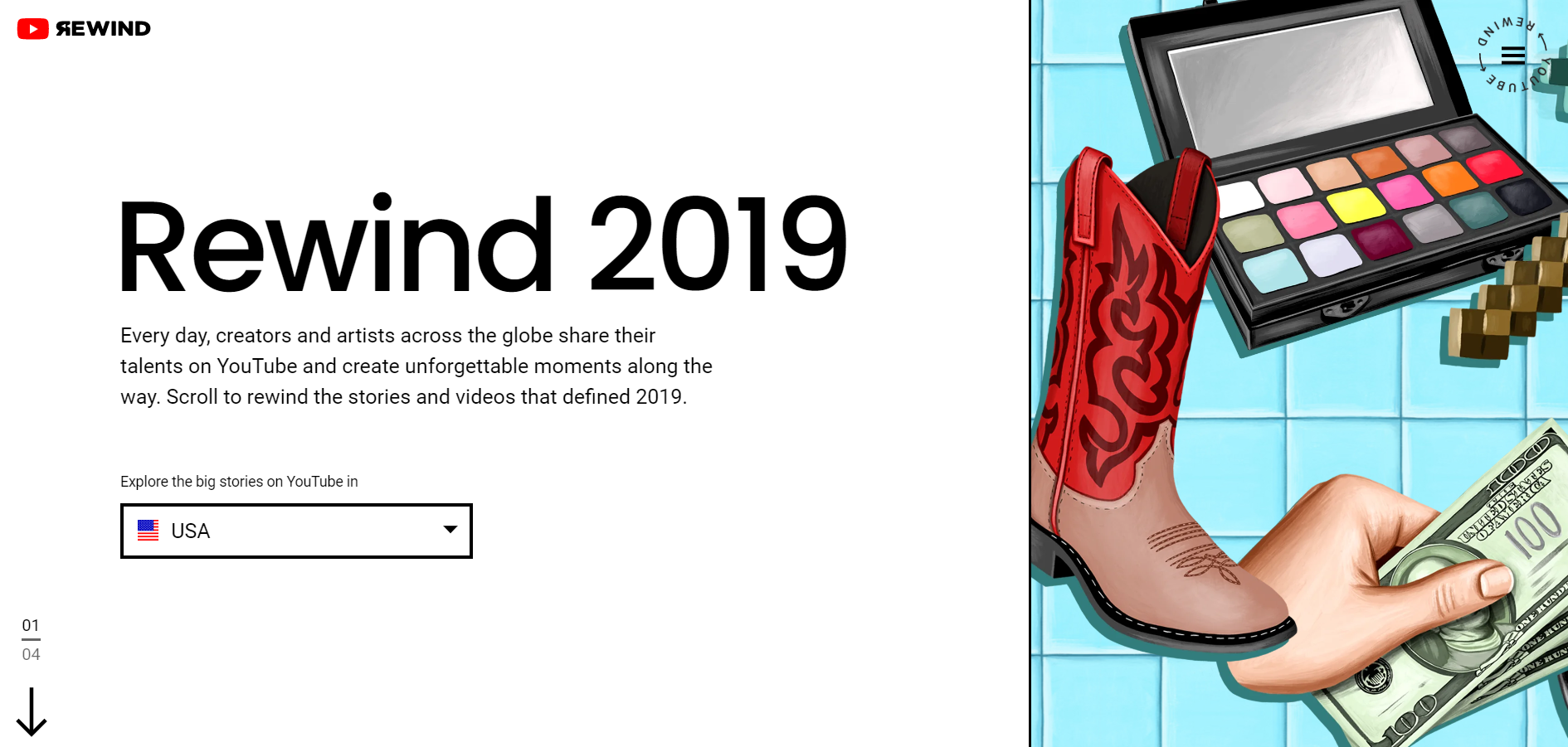 Want to know what the most popular topics were in your country during 2019 based upon YouTube stats and relive the experience? Thanks to rewind.youtube you can!
Want to know what the most popular topics were in your country during 2019 based upon YouTube stats and relive the experience?
Thanks to rewind.youtube you can!
It seems so simple and intuitive for YouTube to share this sort of data. However, this is done with a beautiful and interesting design, allowing users to scroll effortlessly through the year and see what people were watching with an interesting description and links to the videos themselves.
Seeing and remembering what was popular in your country last year is great, but also just as intriguing to see what was popular in other countries and of course, the similarities like the global fascination with Minecraft.
And let's face it, the fact it's available on a .brand domain makes it just that little bit cooler, right? 
GoDaddy acquired Neustar's registry business as of August 3, 2020.
Subscribe
Stay up to date with the latest .brand news and views by entering your email below.