Neustar evolves its digital brand unveiling home.neustar
Announcement: .neustar Top-Level Domain ushers in trusted interactions in a connected world
"It's time for organizations to take back ownership of their digital brand and create efficient pathways for customers to find the online content they're looking for."
Neustar, Inc., a trusted, neutral provider of real-time information services, today announced that it has revamped its global website with a new web address that embraces the use of a brand Top-Level Domain (TLD). All of Neustar's digital assets will utilize its new '.neustar' TLD to increase the effectiveness and stickiness of its online and offline communications. As of today, Neustar's homepage resolves to home.neustar and each of its solution areas can also be found on .neustar web addresses, such as marketing.neustar, security.neustar and risk.neustar.
As the world's largest registry services provider and a global leader in managing and administering digital naming solutions, Neustar is committed to embracing the digital future and driving the connected world forward. Creating trusted interactions in a connected world remains paramount to growing and guarding any organization and because ".neustar" can only be used by Neustar solutions and services, customers who visit sites that use the new TLD can be certain that the information they contain is reliable and trustworthy. In addition, the new TLD offers unparalleled global brand value for Neustar and its solutions, as ".neustar" is easy to remember and it is an equally effortless brand identifier in all marketing collateral, online and offline.
"It's time for organizations to take back ownership of their digital brand and create efficient pathways for customers to find the online content they're looking for," said Tony Kirsch, Head of Professional Services, Registry Solutions, Neustar. "Hundreds of globally admired brands like Canon, Google, Barclays and Audi have already launched brand TLDs as the foundation of their future digital brand identity. We believe this is the next evolution of the internet – whereby organizations can put the power back into the hands of the consumer and reap the rewards of direct customer relationships. As Neustar takes on one of its most memorable journeys yet, we are proud to take this extra step to truly align our corporate strategy with our digital strategy and further our role in leading this incredibly important movement."
As an early adopter of brand TLDs, Troels Oerting, Chief Information Security Officer for Barclays Group, stated, "the launch of these…domain names creates a simplified online user experience, making it crystal clear to our customers that they are engaging with a genuine Barclays site."
Neustar is one of the first organizations to move its existing web address to a domain ecosystem it fully controls, allowing it to streamline the customer experience, enhance security for customers, simplify the online navigation, and deliver a plethora of advertising campaigns aimed at creating memorable and personalized interactions. The user experience will also undoubtedly become easier and more intuitive as customers will be able to use shorter web addresses that will bring them directly to the information they want instead of going through a lengthy and distracting online search process. In celebration of Neustar's new digital identity, it is running an advertising campaign ("Unleashing the Power of Your .Brand") to highlight the unique ways in which branded TLDs can be used in today's connected world.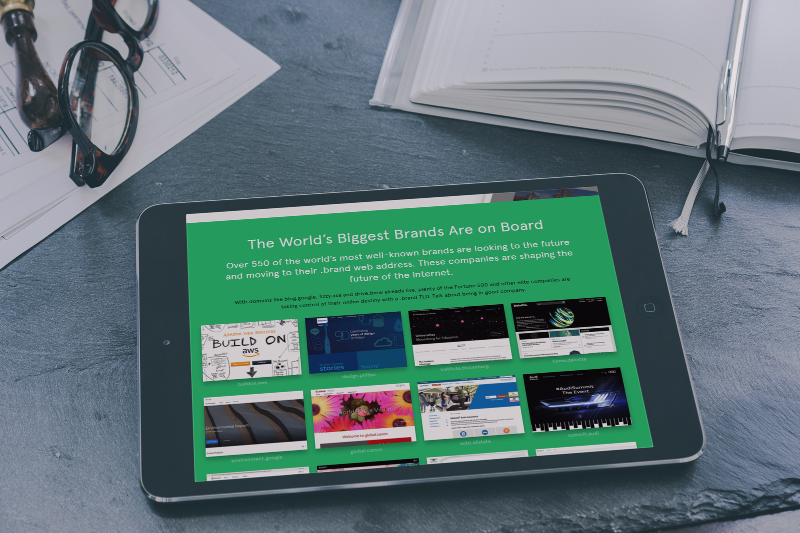 Subscribe
Stay up to date with the latest .brand news and views by entering your email below.
About MakeWay.World
---
The digital landscape has changed, and disruption is no longer just for startups. In today's increasingly cluttered market, some of the world's biggest organizations are turning the tables on digital and taking back control of their brand. A .brand Top-Level Domain creates new pathways to forge stronger connections with your customers. With your company or brand name to the right of the dot, you gain an unprecedented level of control, flexibility, and security for your digital presence – in addition to endless new possibilities for creativity and innovation. Make way for branding that cuts through the clutter. Make way for better customer experiences and real, meaningful connections. Make way for a new evolution in digital. Make way world, for the digital superbrand. MakeWay.World is the online hub for news, resources, tips and inspiration on .brands. Whichever direction your .brand takes you, MakeWay.World provides the insight and guidance to get you there.
Get in touch
---
We are commited to providing the latest information regarding .brand TLDs and any interesting news around Registry solutions for brands. If you have a story or press release to share, an update for our Showcase, or questions about anything on the site, please contact us at dotbrands@registry.neustar